Explore 2N's Access Control portfolio
IP Intercoms, Access Units, and Answering Units
Rederia  is one of Portugal's leading suppliers of professional access control and intercom systems.
Specializing in IP intercom and answering units over IP technologies for the installers, system integrators, architects, designers or developer companies.
Range of 2N IP Intercom, access control, and answering units are ideal for professional security systems in commercial and residential applications.
2N award-winning products are stylish, robust and secure and offer ideal access control solutions for apartment buildings, single villas,  commercial buildings, schools, hospitals, etc where multiple user, multiple entry position control and communication is required.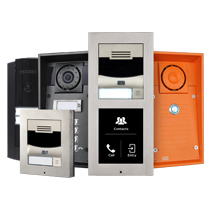 The 2N IP-based Door Intercom and Door Entry product range uses the latest internet protocol addressing technology to allow ultimate flexibility and integration between IP systems, with Intercom devices being connected via standard LAN, WAN or web-based communications.
»  Interested in more details about 2N IP Intercoms
2N Intercom portfolio of seven IP intercom models that share a common software platform based on their own operating system. The portfolio consists of basic audio-only units to highly ruggedized emergency call box models and industry-leading top of the line sophisticated commercial intercoms. Most models can be equipped with HD ONVIF compliant cameras with IR night vision, high-end audio and or access control technologies including RFID, Bluetooth or biometric.
The 2N offers high quality stylish multi-functional answering units that elegantly fit with any interior. In combination with the 2N IP Intercoms, you'll obtain a comprehensive system for door communication. 2N answering units are not only practical but also an aesthetically-pleasing accessory for your home. They are available in elegant black or white.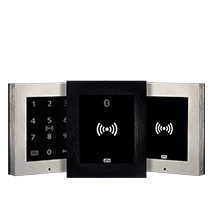 The configuration is done via an intuitive web interface. Such architecture significantly reduces costs related to the labor installation, cabling, and maintenance
The 2N Access Unit is an access control device based purely on IP technology. It combines the functions of a traditional controller and edge devices in one unit supporting different types of credentials: PIN code, RFID cards, Bluetooth, fingerprint or combining RFID with Bluetooth and Keypad with RFID. Single Ethernet cable, PoE and door strike, REX, door contact connected directly to the unit make the installation absolutely simple.
No matter what industry you or your business operates, we will help you find the right products for your requirements.
Call us on: T +351 234 794 192 | F +351 234 794 197
Rederia
We invest in quality and we strive to satisfy and win the trust of our customers. Therefore, we bet on the Quality Management System, in certifications and accreditations by manufacturers and independent entities. Because we recognize quality as an essential factor to create credibility and strengthen our market position, we are based on strategic partnerships with brands and entities that guarantee us products of high-quality standards at competitive prices. Rederia is an official distributor with high-value services for the Portugal market.
2N is a leading European developer and manufacturer of access systems and communication products. According to an IHS report, the company is the world's largest IP intercom manufacturer and a major innovator in IP access systems, IP audio and IP lift communicators. The company was established in 1991 in the Czech Republic and its registered office is in Prague. 2N currently employs more than 320 employees, with branches in the USA, Great Britain, Germany, France, UAE, Australia and Italy. It also has an extensive worldwide distribution network. 2N became a member of the global Axis Group in 2016.
For more information about 2N company visit: www.2n.cz